"MINI GOES ALL-ELECTRIC WITH REAL-TIME
DIGITAL OOH REVEAL"

The Drum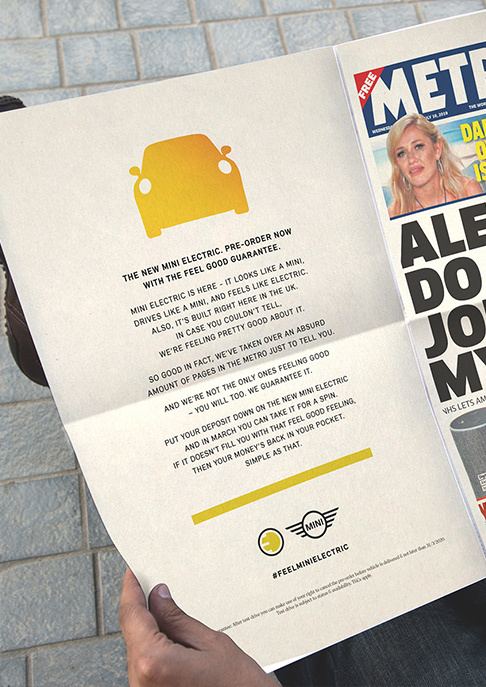 The Challenge
How to rise above the futuristic, neon-blue world of electric car advertising and make MINI Electric a truly desirable electric car that you can't wait to get behind the wheel of.
The platform
We didn't just launch a car, we launched a feeling.
Why? Because the best thing about MINI Electric is how it feels to be behind the wheel.
In an innovative, real-time launch, timed with the global reveal of the car, we shared the almost inexpressible MINI Electric feeling with Britain. At 12.30pm a silhouette - instantly recogisable as the iconic MINI shape - transformed to show the MINI Electric in all its glory. Everywhere the MINI Electric was seen, we used contextually-relevant, quirky quips that stood us far apart from the standard automotive clichés, with no electrifying puns in sight.
Most importantly, we didn't just launch a feeling, we guaranteed it. The Feel Good Guarantee promised that if people weren't feeling MINI Electric after their first test drive, they got their money back – a first in automotive.
The response
The results were staggering, meeting nearly half of our year-end pre-order target in just one short week. And this is just the beginning.
"THE NEW MINI ELECTRIC COMES
WITH A MONEY-BACK GUARANTEE"
More About Advertising
700+

PRE-ORDERS

111K+

PAGE VISITS

669%

INCREASE IN SEARCH